Hello and welcome to our live coverage of the international friendly between Russia and Spain from the Krestovsky Stadium in Saint Petersburg, with kick-off at 19:45 CET.
Russia vs Spain live online: latest updates
90'+3' FT. The referee blows the final whistle early. It was an entertaining match, but that late injury to Andrey Lunev rather sucked the late life out of it. 
90'+2'   Lunev is wheeled off on a golf trolley with a bandage around his head, while a pitch invader accosts Gerard Piqué. Midfielder Denis Glushakov will see out the match in goal. 
90'+1'   Rodrigo is receiving magic spray to his knee, which gives an indication of how hard he hit Lunev. 
90'+3'   The fourth official shows three minutes of added time. But by the time Lunev is treated, it could be a fair but more. 
89'   There is a great deal of concern for Andrey Lunev. The Russian 'keeper sped off his line to deny Rodrigo and caught a knee in the face. That was a really, really nasty collision. 
88'   Spain go in search of a late winner. They make it as far as the box, where José Callejón's back-heel is interepted by a Russian defender. 
87' Russia sub: Smolnikov off,  Ignatiev on. 
85'   Smolov has a clear-cut chance to complete his hat-trick. A simple header on a long ball presents him with an opportunity inside the box, but it is running away from him to the left, and his weak shot is thwarted by De Gea. 
82'   Russia sub: Kombarov replaces Zhirkov. 
79'   Both sides trade counter-attacks. Russia's breaks down when Smolnikov fails to find a team-mate with a simple pass. Spain's breaks down when Vitolo can't beat Vasin to Asensio's through-ball. 
77'   Spain are dominating possession at the moment (they've had 62 percent of the ball throughout the course of the match).
76' Russia make a change in defence: Fedor Kudryashov jogs off, and Konstantin Rausch trots on. 
75'   Rodrigo tries to flick the ball round the corner for Asensio to run on to. The Mallorcan is muscled off the ball and Spain make do with a throw-in. 
70'   GOOOOOL! Fedor Smolov scores his second goal with a thumping effort from the edge of the box. De Gea had made smart save from the No.11 moments earlier, but he had no chance with that piledriver. 
68' Vitolo is booked for a wild slide on Smolnikov.
67' One Miranchuk twin replaces the other! Anton comes on for Aleksey. 
66'   Russia are pressing high up the pitch, with the exception of the back-three, who remain deep. That is creating a large gap between defence and midfield that is perfect for David Silva to operate in. 
63'   Ooooh, Rodrigo should have extended Spain's lead. Illaramendi plays a lovely ball in to the path of the Valencia forward. He takes a touch and tries to dink the 'keeper, but Lunev darts off his line to thwart the effort. 
62' Two changes for the home side: Kokorin for Dzagoev, and Yerokhin for Kuzyaev. 
61'   Spain gallop forward on the counter-attack after clearing a Russian corner. Asensio sees Vitolo overlap outside him, but he slightly overcooks the pass and Vitolo shoots behind on the slide.
60' Yet another change... Saúl on for Thiago. 
58' There'll be no hat-trick for Sergio Ramos. He's replaced by Vitolo. David Silva comes on for Busquets at the same time. 
57'   Russia are pushing really high up the pitch. There is plenty of space for Spain to exploit if they can thread the ball through that first line of Russian press. 
54' GOOOOOOL! Ramos stutters in his run-up, but is fluent in his execution. Lunev is rooted to the spot as the ball flies in to the top corner. 
53'   Penalty, again! Spain tease a free-kick in to a dangerous area, Ramos goes down under the grappling hands of Georgiy Dzhikiya, and the referee points to the spot. The guilty Russian player raises his hands to his head. He can't believe it. 
51' GOOOOOOL! Aleksey Miranchuk draws Russia level in scrappy fashion. Neat interplay between Smolov, Dzagoev, and Zhirkov allows the latter to steam in to the box. His cut-back bounces in to Nacho, and sits up perfectly for Miranchuk to poke it in at the near post. 
49'   Alberto Moreno, slightly too keen to make an impression, barges in to the back of Smolnikov and concedes a needless free-kick. 
48' Julen Lopetegui made a third change at half time: Alberto Moreno replaced the scorer of the opening goal - Jordi Alba. 
47'   Asier Illaramendi is wearing some classic black-and-white Adidas boots. I now like Asier Illaramendi a bit more than before. 
46' The second half is go! 
And another one: Callejón replaces Suso, who I had totally forgotten was playing. 
Half time change for Spain: Illaramendi replaces Iniesta. 
Jordi Alba headed Spain in to the lead in Saint Petersburg, and Sergio Ramos scored another from the penalty spot after Kuzyaev was harshly penalised for handball. Fedor Smolov clawed a goal back for the hosts as they ended the half on strongly. 
45'+1' HT. 
45'   One minute of added time, says the fourth official's board. 
44'   Russia are in the ascendancy as the first half nears a close. A couple of shots and crosses are fired in and bounce back out, before the pressure eventually comes to an end with an overhit pass over the top. Spain settle in to their own spell of possession from the goal kick. 
41' GOOOOOOL! Russia reduce the arrears and Fedor Smolov is the scorer. He brings Miranchuk's pass under control with an assured first touch, and jinks on to his left foot before rifling a shot in to the depths of the right corner. Russian flags wave jubilantly around the stadium.
40'   Jordi Alba tracks back diligently to prevent Glushakov latching on to Smolov's through-ball in the box. 
38'   Rodrigo is really good at moving away from his marker and creating time for himself with his first touch. Lovely to watch. 
35'   GOOOOOOL! Ramos strides up, plants his foot firmly, and squeezes the ball in to the bottom corner. 
33'   Penalty to Spain! Daler Kuzyae is penalised for a handball in the box. It looked like it bounced off his shoulder... Nevertheless, Ramos is over it. 
31'   Aleksey Miranchuk receives the ball on the half-turn after Glushakov takes a quick free-kick. The rangy winger strikes the ball sweetly with his left foot, but it slams in to Piqué's thigh. Russia then work the ball out to the left and in to the centre. Dzagoev can't convert at the near post. 
29'   Asensio is felled just outside the box, giving Spain a free-kick in a dangerous position: 25 yards out, right in the middle... Ramos shoots with his right foot. In to the wall! 
25'   Piqué attempts an acrobatic flick towards goal, which was necessary because the cross was behind him. Smart improvisation from the centre-half and his effort is on target. It doesn't have enough power to beat Lunev, however. 
24'   Lopetegui appears to have instructed his full-backs, or at least Jordi Alba on the left, to play 'inverted', as Pep Guardiola has done at Manchester City on occasion. When Spain attack, it is Asensio who is wide, with Alba advancing in a left-central position. My tactical analysis is rudely halted by the fact that Spain are taking a free-kick from the right, which is headed clear by Glushakov. 
23'   Glushakov tries to link up with Smolov on the edge of the Spain box. Best buddies Ramos and Piqué are attentive to cut out the opportunity for a one-two. 
22' It was in fact Busquets who was booked for that earlier swipe at Smolov. 
19'   Dzagoev feigns to shoot before rolling the ball off for Glushakov to shoot low. Too low, as it turns out, as the shot canons clear off someone's heel. 
18' Thiago is the first player to find his way in to the referee's book. His crime is a scything challenge on Smolov after Busquets had failed to fell the Russian striker at the first attempt. 
17'   Zhirkov drives a cross through the box, and four Russian attackers stand with their feet rooted to the flaw as the ball navigates a path through all of them and out for a throw-in. That came after neat interplay in the centre of the park. 
15' Marco Asensio has turned in a menacing first 15 minutes on the left wing. He latches on to Alba's through-ball and wins a corner, which the home side clear after a couple of attempts. 
11'   Rodrigo takes the ball under his spell and spins away from his marker in one fluid motion. The Valencia forward shoots low with his left foot from the edge of the box, but Lunev smothers it. 
9' GOL GOL GOL! Spain take the lead against the run of play through Jordi Alba! Asensio controls a long pass on the left, dinks a nicely-weighted ball in to the box, and Jordi Alba, galloping forward from left-back, nods it over Andrey Lunev. 
7'   Spain are in a real pickle up against the Russian wing-backs. This time Smolnikov threatens on the right, sending a gorgeous low cross in to the space around the penalty spot for Smolov to run on to. The No.11 isn't quite fast enough, and although he gets a touch to the pass, he can't direct it on target. 
6'   Russia use their wing-backs to excellent effect to carve out the first opportunity of this nascent match. Yuri Zhirkov, formerly of Chelsea, finds space on the left and attempts to cut the ball back in to the six-yard box. A well-positioned heads clear as far as Kuzyaev, who takes a touch, leans back, and wedges the ball over the bar. 
5'   Gerard Piqué is lucky to avoid being penalised for a clumsy trip on Zhirkov. 
2'   Alan Dzagoev, who seems to have been perpetually linked to moves away from Russia, takes an early tumble in the box under the challenge of Nacho. No penalty, and the Spain defence clear. 
1' After a rather elaborate countdown, Spain roll this friendly match underway. 
Here come the teams!
The stadium is fairly sparsely populated, which is a shame, as it's gorgeous. A panoramic view from outside the ground shows it lit up in blue with light flickering off the nearby river. 
Spain boast a strong record over Russia since they first met in 1998: played 5, won 4, drawn 1. Russia have scored just one goal across those fixtures, and that came in a 1-4 defeat at the 2008 European Championship. Spain went on to win that competition. 
Spain are undefeated in their last 26 matches. La Roja have not tasted defeat since Georgia inflicted a shock 0-1 victory on Vicente Del Bosque's team in Getafe in June 2016. 
Aleksey Marinchuk is joined in Stanislav Cherchesov's Russia squad by his twin brother Anton. They look set to take over from the Berezutski twins as Russia's familial pairing. 
Lokomotiv Moskow winger Aleksey Miranchuk is one to watch for Russia this evening. The 21-year-old will provide a creative spark and regular service for striker Fedor Smolov. 
Russia XI: Lunev; Zhirkov, Vasin, Dzhikiya, Kudryashov, Smolnikov; Glushakov, Kuzyaev, Dzagoev, Miranchuk; Smolov. 
At the age of 23, this will be a full international debut for Suso, who is flourishing at AC Milan after failing to make the breakthrough at Liverpool. 
Spain XI: De Gea; Nacho, Piqué, Ramos, Alba; Busquets, Thiago, Iniesta; Suso, Rodrigo, Asensio.
  If Spain can avoid defeat tonight, they will end the year in seventh position in the FIFA/Coca Cola rankings. If Russia beat them, they will be no change in the rankings with France in seventh and Spain in eighth.
Horseplay at the Petrovsky. Asensio and Nacho in Monday's training session
Spain have happy memories of their most recent meeting with Russia. It was on 26 June 2008 at the Ernst Happel Stadion in Vienna - the semi-final of EURO 2008. Luis Aragonés' team put in a masterful performance - one which many commentators feel was the best Spain display of all-time, winning the match 3-0 and booking their place in the final. Out of the starting XI who took to the pitch that night, only three players remain with the current side - Iniesta, Ramos and Silva.
The affable Sergio Ramos hasn't been in St Petersburg long and he's already making friends. Here he is with Zabivaka, the furry 2018 World Cup mascot.
Spain and Russia/USSR have met 10 times previously - La Roja have won six of those encounters and three have ended level. Russia's one and only win was the 1971 European qualifier in Moscow mentioned below.
Spain have only played on Russian soil once - and have never played there since the USSR was dissolved. The Soviet Union entertained Spain in front of 81,000 fans at the old Lenin Central stadium in Moscow in May 1971. That game, a qualifer for the following year's European Championships in Belgium, ended 2-1 to the host. Viktor Kolotov and Vitaliy Shevchenko puts the hosts 2-0 up and Charly Rexach pulled one back with two minutes to go.
Gianluca Rocchi will be in charge tonight and making sure the game flows without incident. José Mourinho isn't the Italian ref's biggest fan - he complained about his performance in the 1-1 with Manchester City when Mou was at Real Madrid.
Russia's last outing was a 1-0 defeat to Argentina, courtesy of a Kun Agüero header, while Spain gave Costa Rica a good old fashioned tonking in Málaga, knocking five past the Ticos without reply.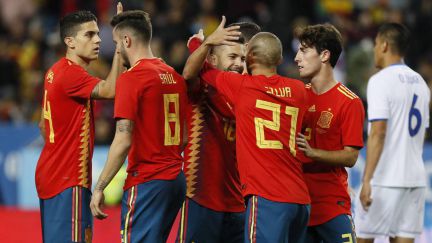 World Cup 2018 hosts Russia welcome Spain to the Krestovsky Stadium for a friendly warm-up for the big occasion. This will be the first time that the sides have met since the semi-finals of Euro 2008, Russia's best recent showing at a major tournament.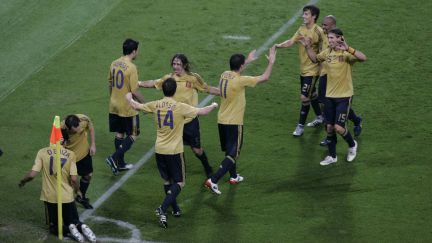 Russia vs Spain live online: match preview
It has been almost 10 years since Russia and Spain last met, in the semifinals of Euro 2008. At that time La Roja were still awaiting a first major tournament triumph since 1964 – one of those victories that always carries an invisible asterisk due to the advantage of home soil.
Spain had been perennial also-rans in the interim, a side accustomed to quarterfinal heartbreak or earlier exits on the grandest stages, other than a run to the final of Euro 84, where Michel Platini had unleashed the full complement of his extraordinary skill, firing the hosts to glory with nine goals in five games.
At Euro 2004 Spain had failed to get out of the group stage and at the World Cup two years later fell at the first hurdle, once again halted in their path by a France side led by another once-in-a-generation player, Zinedine Zidane. In the two years bridging Germany and Austria-Switzerland, Spain tore up the book and invested the future of the national team in "los bajitos," doing away with stalwarts including Raúl González, which at the time was a source of national debate.
Los Bajitos – essentially Xavi, Andrés Iniesta, David Silva, Cesc Fábregas and David Villa – backed by a solid defence screened by Marcos Senna, scraped past Italy in the quarterfinals but then played perhaps the most complete game in Spain's recent history to put Russia to the sword 3-0 in Vienna. From there, Spain went on to global domination, winning the 2010 World Cup and defending their European title in Poland and Ukraine.
On the other side of the coin the Russian Federation had reached their zenith. They had never been past the group stages since the dissolution of the Soviet Union and they would not progress that far again after Euro 2008, failing to qualify for South Africa and going out at the first hurdle in 2012, 2014 and 2016.
Russia
Stanislav Cherchesov was appointed in August 2016 to turn the country's fortunes around – and handed a remit to guide the hosts to the semifinals of the 2018 World Cup.
So far, the former keeper, who fell one short of 50 caps for his country, has managed to shore things up at the back but Russia still lack a genuine international goal scorer. Cherchesov's current squad have 48 between them and the side's top scorer is Alexsandr Kokorin, who has 12 in 47 appearances.
A lack of competitive football could also be seen as a drawback going into a major tournament but much as Austria did before co-hosting in 2008, Russia have been careful to avoid taking on too many heavyweights for a run that will depend in no small part to the morale of the players and the backing of the nation. The 2017 Confederations Cup ended in a group stage exit but there have been some encouraging results in 2017 – a 3-3 draw against Belgium, putting four past South Korea and beating Hungary 3-0 away – and 1-0 losses to European champions Portugal and World Cup runners-up Argentina are no disgrace.
Cherchesov's main task has been regenerating a side whose average age was touching 30 at the last Euros. Only two players who started against Spain in Vienna in 2008 are in the current Russia squad: captain Igor Akinfeev and midfielder Yuri Zhirkov. Cherchesov has managed to carve out a goal difference of +2 during his 15 games in charge but has only won five of those fixtures, suggesting there is still plenty to do before next summer.
Spain
Julen Lopetegui has overseen more of a lick of paint than a full parts service on a Spain squad that was hailed as one of the finest international sides the world had seen at their peak but who inevitably failed to maintain that level over time. A group stage exit at the 2014 World Cup was disastrous and a last-16 defeat by Italy in the Stade de France last year disappointing. However, since taking over in the wake of Euro 2016 Lopetegui has kept the ethos of the side intact while sprinkling new talent into the mix.
Of the side that beat Russia in Vienna only Iniesta, Sergio Ramos and Silva remain in the current squad as the likes of Xavi, Xabi Alonso and Fernando Torres have been gradually replaced with Isco, Saúl, Álvaro Morata and Marco Asensio. The effect, based on the experienced core of the three veterans of 2008 and Gerard Piqué, Sergoi Busquets and Jordi Alba, is a wonderfully balanced side with the perfect amount of tournament nous and youthful verve.
In La Roja's last friendly a Costa Rica side lacking some of its big name players were brushed aside in such a manner that the Spanish press were asking for the World Cup to start tomorrow. That may be a little premature: Spain are unbeaten under Lopetegui but drew friendlies with England and Colombia after being held by Italy in Turin in qualifying. It is only in the past few months that La Roja have found their groove, dismantling the Azzurri in the return match and knockin I 20 goals without reply in their last five fixtures.
It could be that Spain will peak - injuries notwithstanding – at the finals in Russia. The game in Saint Petersburg will be an interesting litmus test for both. The home side will be eager to put into practice their game plan to thwart better-equipped sides while the visitors are obliged to rubber-stamp their credentials as a team to be feared next summer.
---
Russia vs Spain live online: selected betting odds
Spain are overwhelming favourites to seal victory in Saint Petersburg at 1/2, with a home win priced at 6/1. If you fancy a repeat of the score in Vienna when last the sides met, 3-0 to Spain is chalked up at 9/1.